APACHE "Atmospheric Pressure plasma meets biomaterials for bone Cancer Healing" is a Starting Grant project, funded by the European Research Council (ERC) and lead by Dr. Cristina Canal who, in collaboration with a young and dynamic team, is carrying top of mind research within the Biomaterials, Biomechanics and Tissue Engineering group (BBT) at the new Barcelona East School of Engineering (EEBE) of the Universitat Politècnica de Catalunya (UPC).
APACHE's main aim is focused in the design of a novel therapy for bone cancer by taking advantage of the active species generated by cold Plasmas in combination with biomaterials to deliver the active species locally to the diseased site.
News
Miguel Mateu successfully defended his PhD Thesis
Dr. Miguel Mateu, second PhD. student to complete his doctorate as member of the APACHE project. He focused on the "Evaluation of biological effects of atmospheric plasmas in bone cancer" for his PhD...
---
The APACHEs attend the 1st Training School on Fundamental aspects on Plasma Medicine in full
Dr. Cristina Canal, together with the full research team of the APACHE project (Dr. Albert Espona, Dr. Francesco Tampieri, Miguel Mateu and Milica Zivanic) attended the 1st Training School -...
---
UPC, the Spanish university with the most patents
UPC tops the ranking of universities in terms of patent applications in Spain, according to data from the European Patent Office (EPO).
---
Plasma-treated thermosensitive hydrogels, good candidates to provide local anticancer therapies
PhD student Xavi Solé-Martí and al. are proud to announce their new publication in RSC Biomaterials Science: "Thermosensitive hydrogels to deliver reactive species generated by cold atmospheric...
---
Miguel Mateu receives Best Thesis Presentation Award during the III IRSJD Scientific Day
Miguel Mateu, PhD student under the direction of Dr. Cristina Canal and Dr. Juan Tornín, presented his doctoral thesis in a video during the III Scientific Conference of the Sant Joan de Déu...
---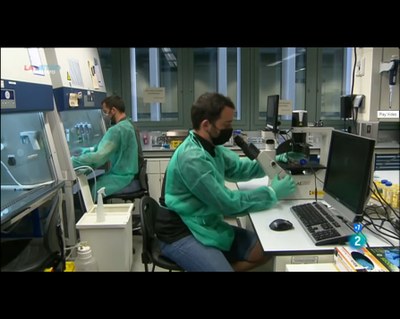 APACHE's research on "La Metro" TV show
The PlasmaMED lab and APACHE's research, part of La Metro's TV program on April 15th, 2021, at La 2.
---