APACHE "Atmospheric Pressure plasma meets biomaterials for bone Cancer Healing" is a Starting Grant project, funded by the European Research Council (ERC) and lead by Dr. Cristina Canal who, in collaboration with a young and dynamic team, is carrying top of mind research within the Biomaterials, Biomechanics and Tissue Engineering group (BBT) at the new Barcelona East School of Engineering (EEBE) of the Universitat Politècnica de Catalunya (UPC).
APACHE's main aim is focused in the design of a novel therapy for bone cancer by taking advantage of the active species generated by cold Plasmas in combination with biomaterials to deliver the active species locally to the diseased site.
News
Dr. Cristina Canal joins the celebration of the International Day of Women and Girls in Science
Dr. Cristina Canal participated in the Memorial Day of the International Women's Day for Science, held on February 11th at the facilities of the Diagonal-Besòs Campus of the UPC.
---
APACHE team wish you all a Merry Christmas and a Happy New Year
APACHE Scientific Cordinator, Dr. Cristina Canal, and all her team want to wish you a Merry Christmas and a Happy New Year
---
Miguel Mateu, APACHE's PhD student, presented his work at the 11th IBEC Annual Symposium
Members of APACHE project and the BBT research group attended the 11th IBEC Annual Symposium on October, 2nd, presenting their latest research in biomaterials and bone cancer alternative treatments.
---
Dr. Cristina Canal, invited speaker at a Seminar on the Application of Atmospheric Plasmas in Cancer Treatment at CIBIR
The Biomedical Research Center of La Rioja (CIBIR) organized a seminar, aimed at researchers and health professionals, on the application of atmospheric plasma as a therapy against cancer.
---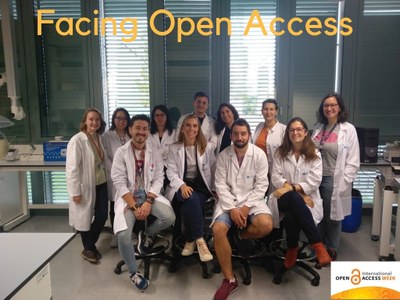 Open Access & Open Science Week at UPC
EEBE's Library celebrated the Open Access & Open Science Week with several publications at its social networks, under the hashtags #OAweek2018 and # OpenAccessUPC.
---
Prof. Pierre Layrolle, collaborator of APACHE, visited our laboratories
Prof. Pierre Layrolle, Director of Research at INSERM, meets APACHE's team during his visiti to the its facilities in Barcelona.
---