APACHE "Atmospheric Pressure plasma meets biomaterials for bone Cancer Healing" is a Starting Grant project, funded by the European Research Council (ERC) and lead by Dr. Cristina Canal who, in collaboration with a young and dynamic team, is carrying top of mind research within the Biomaterials, Biomechanics and Tissue Engineering group (BBT) at the new Barcelona East School of Engineering (EEBE) of the Universitat Politècnica de Catalunya (UPC).
APACHE's main aim is focused in the design of a novel therapy for bone cancer by taking advantage of the active species generated by cold Plasmas in combination with biomaterials to deliver the active species locally to the diseased site.
News
The APACHEs attend the 1st Training School on Fundamental aspects on Plasma Medicine in full
Dr. Cristina Canal, together with the full research team of the APACHE project (Dr. Albert Espona, Dr. Francesco Tampieri, Miguel Mateu and Milica Zivanic) attended the 1st Training School -...
---
UPC, the Spanish university with the most patents
UPC tops the ranking of universities in terms of patent applications in Spain, according to data from the European Patent Office (EPO).
---
New review at the Journal of Clinical Medicine
M. Mateu et al. just published a new Review on "Cold Atmospheric Plasma: A New Strategy Based Primarily on Oxidative Stress for Osteosarcoma Therapy" at the Journal of Clinical Medicine (Open Access).
---
Miguel Mateu receives Best Thesis Presentation Award during the III IRSJD Scientific Day
Miguel Mateu, PhD student under the direction of Dr. Cristina Canal and Dr. Juan Tornín, presented his doctoral thesis in a video during the III Scientific Conference of the Sant Joan de Déu...
---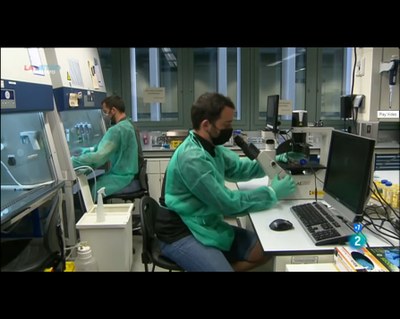 APACHE's research on "La Metro" TV show
The PlasmaMED lab and APACHE's research, part of La Metro's TV program on April 15th, 2021, at La 2.
---
New paper on the "Quantification of Plasma-Produced Hydroxyl Radicals in Solution and their Dependence on the pH"
Insight about the Fundamentals of Plasma-Liquid Interactions Published on Analytical Chemistry. Check it out: F. Tampieri, M.P. Ginebra, C. Canal. Quantification of Plasma-Produced Hydroxyl Radicals...
---
A consensus in Plasma Medicine procedures. New publication in Nature Protocols
The publication involves the use of cold atmospheric plasma jets for biological and medical applications, finding particular application in cancer, although it could be also applied to other areas...
---
APACHE's two patents against cancer, on National TV
Pharmaceutical and medical products lead the patented technologies in Spain during 2020. Dr. Cristina Canal, with two oncology related new patents derived from the APACHE project, explains why at...
---
Cristina Canal, ICREA Academia Award 2020
Dr. Cristina Canal has received the ICREA Acadèmia Award 2020 for her outstanding research.
---